Software registration is one of the most common and widely used licensing schemes. It offers a simple and easy license management solution. The scheme requires the user to register the software to activate the license. So it allows you to collect the user information as well as a license fee, before issuing the License Key (or serial key) to the user.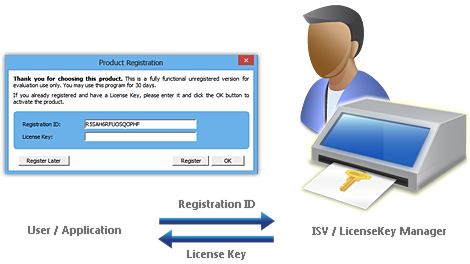 How it works
With the application providing a Registration ID, the user can use it to register for a license. The user may send you the Registration ID via email, phone, fax, etc. In the simplest setup, you can easily use the provided LicenseKey Manager tool to verify the Registration ID, define the licensing properties, and then generate the License Key to be returned to the user.
In addition, LicenseKey Manager allows you to issue the License Key for license renewal and upgrade. In case of a refund, it allows you to verify the recevied Destroy-Code and determine if the user has indeed destroyed the license.