USB LicenseKey Manager
USB LicenseKey Manager is the licensing tool that allows you to define licensing properties (e.g. usage-based, time-based, and feature-based) and make USB license dongles for software distribution.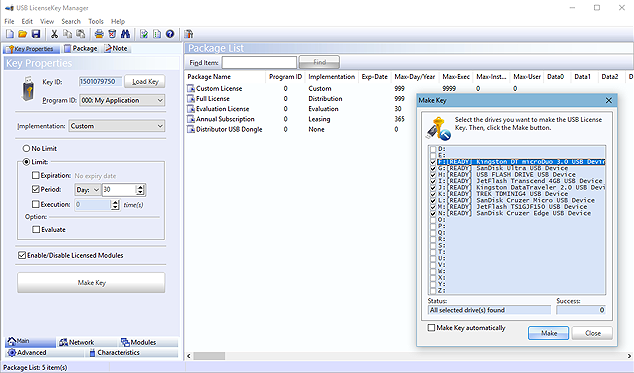 Technical Specifications
System Requirements:
Windows XP/Vista/7/8/10, x86 and x64
Licensing Properties
Main Licensing:
Max # of days allowed
Max # of years allowed
Expiration date, and started date
Max # of executions allowed
Evaluation
Feature Licensing:
Enable/disable up to 30 licensed modules
Network Licensing:
Max # of concurrent users
Network boundary (local or internetwork)
IP address (private or public address)
USB Key Installation to HDD:
Max # of installations allowed
Module installation for license upgrade
Advanced Licensing:
Encrypted data up to 64 bytes
User ID
Key Features & Benefits
Make Your Own USB License Dongles - Unlimited!
USB LicenseKey Manager allows you to make USB license dongles from normal USB flash drives. With the provided limits and options, you can use the USB license dongle to license your software in many different ways. You can also mix and match the limits to create a wide variety of licensing models, for example, evaluation version, full feature version, time-limited subscription version, etc.
Key Installation Option
The Key installation option allows you to make the USB license dongle that can be installed on to a hard drive. This makes it very convenient for the user to run the application without having to attach the USB dongle to the computer every time. The user can also uninstall the license back to the USB dongle to transfer the license from one computer to another.
USB LicenseKey Maker for Distributor / Third Party
While USB LicenseKey Manager is the developer tool, it also allows you to create a distributor tool called USB LicenseKey Maker. The maker tool can be provided to a distributor or third party whom you authorize to make the USB license dongle on your behalf. Through the Activation Server, you can have full control over the maker tool to set the number of USB License Keys allowed to be made, as well as monitor the logs of all USB License Keys that were made.
* This feature is available in ElecKey EX Internet/Enterprise/Ultimate editions.