LicenseKey Manager
LicenseKey Manager is the license management tool that allows you to define licensing properties (e.g. usage-based, time-based, and feature-based) and generate License Keys for software distribution.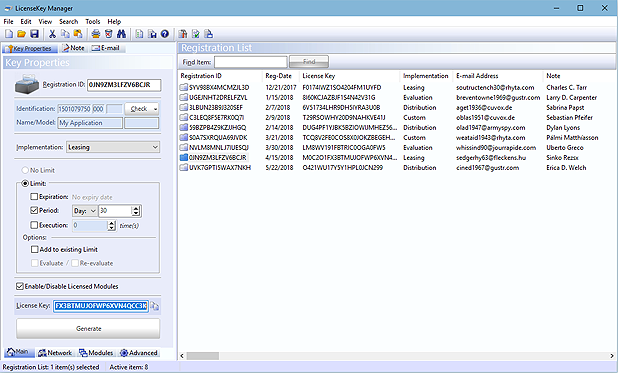 Technical Specifications
System Requirements:
Windows XP/Vista/7/8/10, x86 and x64
Licensing Properties
Main Licensing:
Max # of days allowed
Max # of years allowed
Expiration date, and started date
Max # of executions allowed
Add properties for license upgrade
Evaluation, and extended evaluation
Feature Licensing:
Enable/disable up to 30 licensed modules
Add modules for license upgrade
Network Licensing:
Max # of concurrent users
Add max users for license upgrade
Network boundary (local or internetwork)
IP address (private or public address)
Advanced Licensing:
Encrypted data up to 64 bytes
User ID
Key Features & Benefits
Wide Variety of Licensing Models
Through the issued License Key, LicenseKey Manager allows you to have full control over the distributed software. With the provided limits and options, you can easily license your software in many different ways. You can also mix and match the limits to create a wide variety of licensing models; for example, evaluation version, full feature version, time-limited subscription version, etc.
Easily Manage License Registration
Along with the Registration ID and the issued License Key, you can enter the user information in the registration list, including email address, and notes. With a click of a button, you can immediately send an email to return the License Key to the user.
Interfaceable with Customized License Management System
All licenses and user information are stored in the CSV (Comma Separated Values) file format, which is exportable and compatible with any system that can read text files. Therefore, you can easily interface LicenseKey Manager with your customized license management system that is, for instance, integrated with the customer database, support services, etc.
License Removal Verification
In some cases, you may want to know whether the customer has actually removed the software license (for instance, before issuing a refund). With the provided Destroy utility, the customer can properly destroy the license in which a Destroy-Code will be generated. You can use LicenseKey Manager to verify the Destroy-Code received from the customer to confirm the date/time of the action.